When the French king, Louis XIV, abolished freedom of religion in 1685, the members of the Reformed Church had to flee from the country, to avoid persecution. Or else they had to convert to Catholicism.
In 1719 some of the members, who had escaped to the Palatinate and Brandenburg, were invited by the Danish king, Frederik IV, to settle in the fortress town of Fredericia. As compensation they were promised freedom of religion, their ministers salary was paid for 10 years, they were exempt from customs and tax for 20 years, and given land, as well as other advantages. Hundreds accepted the offer and settled in the town as, inter alia, farmers and tobacco planters.
Today the congregation consists of some people with the old family names, but many members are completely without any historical connection. They have joined because of their interest in the faith of the Reformed Church.
There are 4 Reformed congregations in Denmark. One German, one French, one from Ghana and one Korean congregation are connected to the Reformed Church in Copenhagen.
The fourth congregation has its own church in Fredericia. The language of the church is Danish, but the minister is German. The minister gladly visits members who live in other parts of the country and holds services in other towns.
What is the congregation of Fredericia?
The congregation of Fredericia consists of about 150 members of all ages. Some live in other parts of the country.
 
At the annual general meeting of the congregation they elect 6 people who form the presbyterium, which is more or less the equivalent of the parish council within the Lutheran Church of Denmark. But the members of the presbyterium take a more active part, e.g. in the church ceremonies.
Together with the minister they manage the daily operation of the church. That means both the ecclesiastical ceremonies, the economy, maintenance of buildings and all the meetings which take place during the day and in the evening.
 
Each Reformed congregation is completely independent. The presbyterium presents its report at the annual general meeting of the congregation, where all important decisions have to be approved.
 
The minister and the presbyterium have close contact with the members, which gives yet another possibility of influencing the working day of the congregation.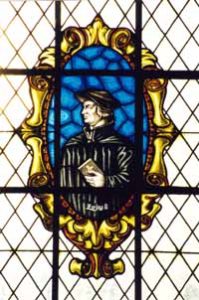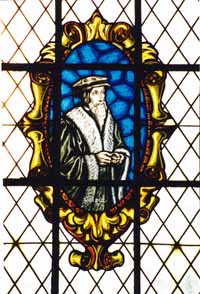 Another of the church's windows have a stained glass window of the Reformer Jean Calvin